Bobster Prescription Sunglasses for Motorcycle Riding
As a motorcycle owner and rider who wears prescription eyeglasses, you've probably encountered some difficulty in selecting a proper pair of sunglasses or goggles for when you hit the open road. Transitions or clip-on additions to your regular glasses may work but aren't ideal; a lot of wind gets through them, drying out your eyes, and a safety strap is required to keep them in place.
You may have experimented with fitover goggles that are large enough to cover your glasses. These, too, have their drawbacks. They look a bit bulky and feel cumbersome and unwieldy. It may be time to consider a pair of prescription sunglasses designed especially for motorcycle riding. You may find they have more options and are more economical that you thought.
Bobster® is a recognized leader in the eyewear field and a manufacturer that offers several sunglass and goggle frames ideally suited to the motorcycle rider. Some Bobster® models feature a convertible eyewear system, which consists of goggle or wraparound frame styles that utilize interchangeable lenses. With this system you're ready for any light conditions and any weather the road can throw at you. The Bobster® Convertible Eyewear line includes featured options like attachable/detachable temple arms and goggle straps, interchangeable lenses in a wide variety of tints and colors, patented QRS technology, and interchangeable foam inserts.
Here are some Bobster® models we highly recommend to motorcycle riders:
Exceeds ballistic impact requirements of the MCEPS standard and is ANSI Z87.2 safety approved, with an 8 Base frame design for excellent peripheral vision
Includes anti-fog smoke lenses in a black Men's frame with gunmetal detailing
High impact protection to meet and exceed ANSI Z87.2 safety standards
Black nylon wraparound Men's frame with removable temple arms to convert from glasses into goggles
Removable foam gasket creates a comfortable barrier around the eyes
Classic Men's motorcycle goggle design looks great with any helmet
Matte black thermoplastic frame (not ANSI Z87.2 safety approved) with included padded storage pouch, clip, and lens cloth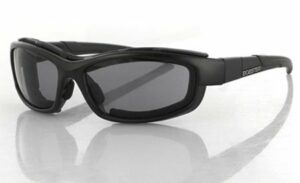 ANSI Z87 approval conforms to the same standards as industrial eyewear, with a closed-cell, removable EVA foam barrier
Converts to goggle with included QRS detachable temples and goggle strap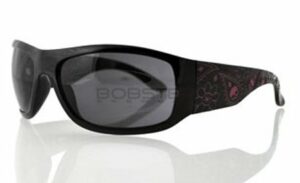 The Highway Honey

Not ANSI approved, but high quality design with a lifetime manufacturer warranty
Gloss black Women's frames with a laser-etched paisley design on each temple, made of Grilamid T90 for extreme flexibility and light weight
The Scarlet, The Scarlet Olive Tortoise Shell, and The Scarlet Tortoise Shell
ANSI Z87.2 safety approved with anti-fog lenses
Temples feature a subtle flower design for just a hint of femininity
Rx Safety carries these and other Bobster® prescription motorcycle sunglasses in both men's and women's styles. Shop today for a pair that compliments your bike and your lifestyle.