Best Lenses for Semi Rimless Glasses
A popular stylistic format, semi-rimless glasses are, for many, the ideal choice.
Best Lenses for Semi Rimless Glasses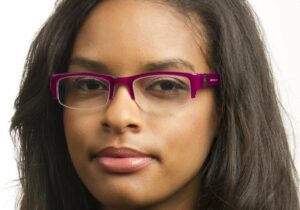 Lenses in a semi-rimless frame are mounted in the browline – the upper portion of the frame, even with eyebrows – and left exposed at the bottom. In some varieties the lenses are supported by the browline frame itself; in others, a thin filament of clear nylon cord attaches to the upper frame and cradles the lenses, hidden in a thin channel that runs flush to the edge of the lenses.
Both versions offer a more open and less obtrusive look to your eyewear. The lack of a full, surrounding lens frame downplays the presence of corrective eyewear, exhibiting a more natural appearance. Full rimless glasses are suspended only from the temple arms and a nose bridge, leaving both top and bottom of the lens itself exposed; true rimless frame styles, however, suffer from a lack of rigidity and are prone to bends and breakage. Semi-rimless styles offer what is, for some, the perfect middle ground: the support of browline frame with the light airiness of semi-circle lens exposure.
Although semi-rimless frames offer more support than traditional rimless frames, they still require certain lenses of a certain weight and thickness. Lenses that are fairly thick or heavy do not mount properly and tend to pop out. For this reason, the ideal lenses for rimless glasses are made out of plastic; glass lenses are heavier, and only the smallest lens shapes, in glass, are light enough for proper semi-rimless mounting.
Semi-rimless lenses also need to be relatively thin. If you have a prescription that requires moderate to high strength vision correction, your lenses may turn out to be too thick (especially at the edges) for semi-rimless. If this applies to you, consider ordering high index lenses – high index lenses use less physical material to cut a prescription, and can reduce the thickness of a strong prescription lens by a considerable amount.
If you prefer the semi-rimless format, visit myeyewear2go.com to shop from a wide selection of semi-rimless styles.  Myeyewear2go carries multiple semi-rimless frames in all price ranges, from the most basic, economical models to offerings from the world's most famous designer brands, including: