The benefit of prescription eyeglass frames with magnetic clip on sunglasses
So you just had your eye exam, and you have gotten your new prescription. Time to buy eyeglasses, but this year you decide you want sunglasses, too. There are benefits to having both prescription eyeglasses and sunglasses, you will be covered by your prescription at all times. However, you will constantly be switching from one pair of glasses to another, and that will definitely get to be a hassle. And, you will be paying for two pairs of prescription glasses, which can get expensive rather quickly.
So, you decide that maybe buying two complete pairs of glasses and constantly switching them back and forth depending on where you are is not the best solution. You decide to get clip on shades that attach to your eyeglasses. The problem with this solution is that you will probably not find a clip on that fits your eyeglasses perfectly. There is another solution that many people do not know about: prescription eyeglass frames with magnetic clip on sunglasses. You will have a perfect fit for your particular eyeglasses, and the magnetic attachment is much more secure than a spring-loaded clip on.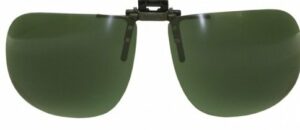 Magnetic clip on sunglasses are becoming more available as people realize how much better of a solution they are to the problem of needing prescription eye wear and the need for sun protection. Rx-Safety has a number of quality solutions for prescription eye wear with magnetic clip on sunglasses. If you would like to take a look at what we have to offer, please contact us and we will be happy to show you how this solution really is the best for sun protection with eyeglasses.