Authentic Gucci Glasses Available
New Gucci Women's Sunglasses Are In!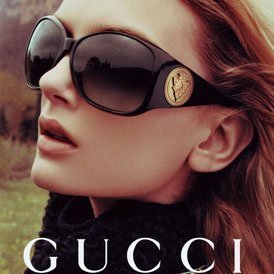 Just in time for summer, our new Gucci women's sunglasses are a perfect blend of luxury and craftsmanship. With over 50 new pairs to choose from, we know you'll find the perfect pair to suit all your summer needs.
Our new Gucci sunglasses have a classic and feminine style that is reminiscent of vintage looks from the 60's and 70's with a modern flare. Almost every style is available in multiple colors, making them uniquely you.
Lets take a look at a few of our newest looks.
-The oversize double frame sunglasses are a new take on the classic browline glasses. These sunglasses come in six bright colors and feature the bold use of gradient lenses that match the frame color. They are slightly rounded for a soft feminine look.

– There are dozens of new oversize glasses to choose from, but these stand out for their incredible temple details. The first is a modern square frame with a marina chain effect on the arms and the second is an oversize oval frame with bamboo shaped arms. Both are perfect for lounging on the beach and will make you look like the epitome of summer fashion.

– These square frame sunglasses are perfect for a more subdued, sophisticated look. They, again, come in multiple colors but this time they are classic colors like taupe and navy instead of bright summer colors. They have a versatile look that can be worn in any season.

All of these glasses are 100% UVA and UVB protection so you will be stylish and safe from the harmful rays of the sun. Be sure to check out our entire selection.