Anti-Fog Prescription Lenses
For those who wear prescription eyeglasses, it can be quite a frustrating problem when the lenses fog up. This happens when you go from one temperature extreme to another, such as being in a nice, cool, air-conditioned environment and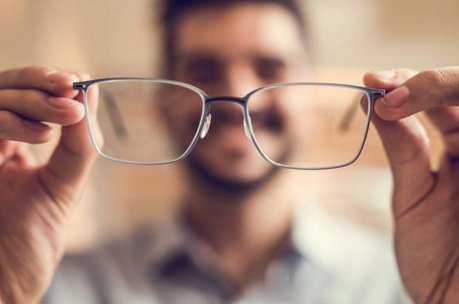 then suddenly stepping outside into a hot climate. The opposite is also true. Anyone who has ever worn glasses in cold temperatures, then stepped inside to a nice, heated room or building knows all too well that their eyeglasses will fog as a result. Fogged eyeglasses can also be a problem for those who wear them when exercising, or even crying. Other factors can cause eyeglasses to fog as well. As most people have experienced, glasses can fog while doing the simplest of tasks, such as opening a dishwasher soon after the cycle has ended. Wearing a scarf can cause fogging as it directs the breath upwards. No matter how much the wearer tries to avoid fogging, this pesky issue just keeps coming back. Fortunately, fog-free vision can be a reality. Our anti-fog prescription eyeglasses have a permanent coating that ensures clear lenses in situations when fogging is an issue.
Our Anti-Fog Prescription Lenses
This Anti-Fog Permanent Coating is a chemically bonded coating that is applied to both sides of the lens before it is cut. The anti-scratch coating is unique in that it can be used to prevent fogging so you can see clearly in any climate or environment that you may be in. The clear coating protects your eyeglasses and has passed several exposure tests to guarantee its effectiveness. When going from one extreme temperature to another, a drop of water may form instead of fog, however, this water is transparent and will not affect the user's vision. You can find yourself in virtually any situation and your lenses will remain clear.
What Industry Tests Have Been Performed on the Coating?
Freeze testing – go from the coldest of cold temperature to the hottest of hot without fogging.
Breathe fog test – no more worrying about fog formation as a result of direct breathing on lenses.
Hot & Moist Air test – Enjoy the warm weather regardless of the humidity and moist air without fogged lenses.
Why Use Anti-Fog Permanent Coating?
Of course, there are other alternatives. For example, you can choose to constantly be removing your eyeglasses and cleaning them. Or, you can just take your glasses off permanently and have blurred vision. You can stop breathing, and you can stay in one constant temperature all day, every day. You can choose never to exercise, enjoy a hot cup of coffee, cook over the stove, or open the oven. The other solution is to get Anti-Fog Permanent Coating on your eyeglasses.
Why is Anti-Fog Permanent Coating more convenient than an anti-fog spray cleaner? While these spray-on solutions are effective, the Anti-Fog Permanent Coating provides better protection against fog formation. The wearer does not have to worry about constantly re-applying the product, and slight fogging may still be a problem. With the Anti-Fog Permanent Coating, it is a one and done solution, and lenses will never fog at all. Those who choose anti-fog spray cleaners actually end up paying more in the long run when purchasing the product over those who choose the one-time cost of $50 for Anti-Fog Permanent Coating.
While many people who don't wear eyeglasses on a daily basis, or even at all, will provide you with many alternative solutions for keeping your glasses fog-free, there is no better solution than the permanent one that Anti-Fog Permanent Coating provides.
The long-term result of the coating is having extremely durable and exceptional optimal performance. Eyeglasses that have the Anti-Fog Permanent Coating applied remain scratch-free, protected from dust and other environmental elements, and have maximum glare protection. The coating makes the process of wearing eyeglasses easier and much more comfortable.
Can Anti-Fog Permanent Coating Be Applied To Any Lenses?
The coating can be applied to any lenses that are purchased from Myeyewear2go. Whether you choose an aviator style, sporty glasses, or something hipster, you can choose to have the Anti-Fog Permanent Coating applied.
How Fogging Can Be Dangerous
Fog formation on eyeglasses can be more than just a frustrating problem, it can be a dangerous one. Constantly having to remove eyeglasses in order to clear fogging can result in tripping and falling, bumping into objects, or stepping on something that causes injury. Even more, eyeglasses that fog while driving can be extremely dangerous. The driver may have to remove the glasses to clean them, or he or she may have difficulty pulling over to the side of the road with fogged glasses in order to remedy the problem. Simply put, eyeglasses that form fog can put the user in compromising situations that can be avoided by having Anti-Fog Permanent coating applied to their lenses.
Can The Coating Be Used On Other Types of Eyewear?
The Anti-Fog coating can be used on safety goggles and other types of protective eyewear. This can significantly reduce eye injuries in the workplace, as fogged eyewear greatly contributes to this problem. Those who work in high-heat indoor environments, such as utilities and paper mills, are at risk. By stopping the problem before it starts, workers can find themselves being more productive as well as injury-free.
The coating can also be applied to any lens style in materials including clear, tinted, photochromic, and polarized lenses. No matter how you look at it, your lenses are protected!
How To Get Anti-Fog Permanent Coating
When you decide that you want to live a fog-free life, getting the coating is easy. Purchase any pair of frames from Myeyewear2go.com, and as you customize your purchase, scroll down to the "coatings" section of the website. Check the Anti-Fog Permanent Coating box and be on your way to clearer vision, all the time.
The website is easy to use in order to purchase glasses that fit your individual needs. If you need help or have any questions, contact us for one-on-one assistance.