Anti Fog Wipes for Safety Glasses
Workplace eye injuries are incredibly common. Current studies indicate that around 2,000 workers incur job-related eye injuries every day. But these same studies also show that the vast majority of these injuries could have been avoided by the use of the proper safety eyewear.
Though the benefits of proper safety glasses are clear, many still avoid using them. One reason often given is lenses that fog up, rendering the glasses useless. After all, what good are safety glasses you can't see out of? Warm air conditions, improper ventilation, and excessive body heat can all lead to moisture build-up, not an inconsequential problem.
While safety glasses can be purchased with anti-fog coatings, these solutions can sometimes be expensive. One extremely affordable alternative are Clarity Defog It Anti-Fog Wipes.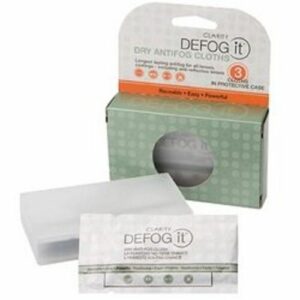 Clarity Defog It Anti-Fog Wipes are dry cloths infused with anti-fog that goes on invisible, with no greasy smearing. They work for hours on all kinds of eyewear, including: sports goggles, dive masks, eyeglasses, sunglasses, faceshields, shooting glasses and more. It's a proven formula used by military worldwide!