Discover Wiley X Youth Force Prescription Glasses
With summer fast approaching, kids will be gearing up for the many of those outdoor sport activities. While parents love to see their kids outdoors engaging in healthy activities such as baseball, basketball, soccer, tennis,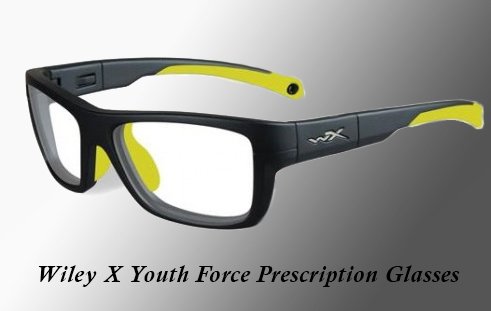 racquetball, and so on, they also want to make sure their children are protected. That means different things depending on the sport involved. However, protecting the eyes is important for any outdoor activity. Not only can the right pair of eyewear keep offer your kid's eyes some protection from flying objects, it also keeps the flying particles or dust out of the eyes too.
The rumble tumble action that comes with outdoor sports and activities also means that parents want to ensure their child's eyewear is protected too. Parents don't want their children to come home with broken glasses from playing outside. It's hard to tell kids with glasses to not play "too rough," "go easy," or "be careful" all the time. Kids want to experience the joy of the sports in which they are involved. That's why we're thrilled to offer the Wiley X Youth Force prescription glasses. These glasses come with several features that have your kids in mind.
Wiley X Youth Force Eyewear Qualities
Meets ASTM F803 Standards
This standard is one of the strictest. Theses glasses will ensure your child has the solid protection you can trust in. In order for glasses to meet these requirements, they must pass a High Velocity Impact Resistance test. This means that the eyewear must hold up while projectiles are dropped on the lenses. The projectiles are between 40 mm and 65.1 mm and projected at a rate of 90 mph. In addition, the frame is tested for durability.
Easily Converts to Goggles
With a simple click of a button, you can change from standard temple arms to goggle straps. This allows kids to have an even more secure fit when they're playing sports. The adjustable strap will fit various head sizes and can be tightened to provide the ultimate fit.
Specifically Tested for Sports Activity
You'll be glad to know these glasses have been tested to ensure they will endure during those rigorous games of sports. They have been shown to hold up well while playing the following sports:
Soccer
Basketball
Racquetball
Squash
Badminton
Paddle Ball
Tennis
Handball
Style
Having a pair of protective eyewear that is both durable and stylish may seem difficult to achieve, but the Wiley X Youth Force line has done just that. Our casual, sporty eyewear comes in a variety of colors, which makes them favorites for kids and youth.
Wiley X Youth Force Styles
Choose from any of the following five styles.

As always, you have the durability promise with the Youth Force Flash. Meeting the ASTM F803 standards is just the beginning of how these glasses meet safety qualifications. A special T-Shell lens coating resists scratching. In addition, you need not worry about the sun's damaging rays; these lenses have 100 % UVA and UVB protection. Your youth will love the frame's color selections, which include:
Rock Candy Pink
Royal Blue and Lime
Flash Graphite and Black
Flash Matte Black with Lightening in Electric Blue
Convertible goggle straps allow kids to switch quickly from standard temple arms to adjustable straps.
Shatterproof glasses are a lifesaver when it comes to kids eyewear. These sport glasses meet all safety standards and have features your kids will appreciate. A soft rubberized nose bridge and temple tips ensure a comfortable fit. Your child can switch between goggle straps or temple arms by simply pushing a button on the temple. It also comes with elastic straps that attach to the temples. Find the stylish color your child prefers from these choices:
Silver Magenta
Matte Black/Lime Green
Gloss Black/Aluminum
Matte Black with Dragon in Sonic Orange
Selenite Polycarbonate lenses makes these glasses hardy and ready for the field. Scratch resistant lenses let kids play without worry. Play on a cloudy day or a sunny day with these 100% UVA/UVB protected lenses. As your child enjoys the summer sun, you won't need to be concerned about the sun causing eye damage. Adjust the goggle straps to allow for your growing youth or use the rubber tipped temple arms. These glasses come with a hard shell case as well as a drawstring Microfiber bag for convenience. Select from among the following colors:
Black/Mars Red
Brown Demi/Blue Grotto
Matte Black
Discover the ease of switching your goggle straps to temple arms by pushing a button located on the temple arm. Then you can button the goggle strap on to the frame. Adjustable elastic makes these straps comfortable. As is the case with all Wiley X glasses, you have the guarantee of meeting the rugged safety standards. These glasses come in two awesome colors:
Matte Blue with Indigo/Grey
Dark Silver with Red Frame
Enjoy the style and ruggedness of the Gamer line. Your kids will be ready for some game time outdoors when they get these eye-catching frames. Made from a durable polycarbonate material, these frames are lightweight as well as comfortable. With the distortion-free lenses, your youth will see everything with crystal clear clarity. Whether they are tossing the ball or kicking it, they will have the protection necessary to get in the game. With the ability to use a goggle strap if needed, they can run, jump, dive into a base, and twirl around without fear of losing their glasses. Delight your kids with one of these colors:
Matte Black/Dark Silver
Gloss Black/Metallic Blue
Finding Your Wiley X Youth Force Eyewear
You will love the quality features of the Wiley X brand. The Youth Force line will inspire your youth to enjoy summer activities and sports outdoors. Get them their prescription ready glasses today. Contact Rx-Safety and browse our large selection of eyewear for youth today. Designed with safety, quality, and style in mind.