What are the Best Wiley X Sunglasses for Fishing?
Wiley X frames, which feature streamlined, face-hugging styles and the latest in eyewear technology, make excellent sunglasses for a whole range of outdoor activities, and fishing is certainly one of them. Yet Wiley X offers so many styles…so which one to choose for a day spent at the dock or on a boat?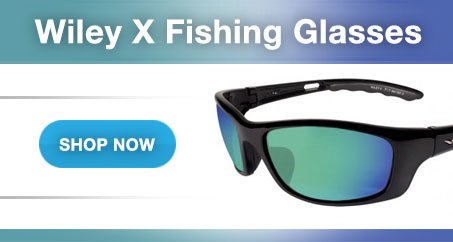 Rx-Safety is here to help with a few suggestions. We've narrowed down the large Wiley X selection to eight popular models (all with polarized lenses) that we feel are perfectly suited to fishing. Before we get to the frames, let's examine why polarization is ideal for the sport or for any water activity.
Sunlight bounces off of surfaces and reflects in multiple directions. The natural movement of water creates many surfaces for the sun to strike, hence the blinding glare we experience when sunlight hits water. Standard sunglass lenses are designed to reduce light waves that strike the eyes both horizontally and vertically, but they do not completely block any of this light. Polarized lenses are treated with a coating that absorbs the horizontal light but allows vertical rays to pass through. Because of this, the glare caused by sunlight is effectively eliminated.
Now, as to the frames, we recommend the following, all of which exceed ANSI Z87.1-2003 high velocity safety standards to protect your eyes against miscast hooks or any other fishing-related dangers:
Gloss black frame with polarized blue mirror lenses
Symmetrical venting that allows cool air to enter the frame naturally
Includes temple strap so frames remain in place during rough weather
Removable facial cavity seal blocks out mist and peripheral light
Gloss black frame with polarized emerald mirror lenses
Features Top Down™ ventilation for fog-free vision
Multi-layer foam for extra comfort and protection
Designed with a seamless hinge for added durability
Gloss black frame with polarized emerald mirror lenses
Wraparound style provides extra protection
Non-slip rubberized temples and nose piece to keep eyewear firmly in place
Includes T-Peg strap and leash cord for additional stability
Gloss black frame with polarized emerald mirror lenses
Features Top Down™ ventilation for fog-free vision
Multi-layer foam for extra comfort and protection
Largest design of the Climate Control series
Gloss black frame with polarized emerald mirror amber tint lenses
Removable facial cavity seal blocks out mist and peripheral light
Shatterproof lenses block 100% of UV light
Gasket blocks out wind, light, dust, and debris
Black crystal frame with polarized blue mirror lenses
Removable facial cavity seal blocks out mist and peripheral light
Shatterproof lenses block 100% of UV light
Gasket blocks out wind, light, dust, and debris
Gloss black frame with polarized blue mirror lenses
Lightweight and comfortable with secure, non-slip rubberized fit
Shatterproof lenses block 100% of UV light
Gloss black frame with polarized blue mirror lenses
Sleek outdoor frame with secure, non-slip rubberized fit